Accessories at Kramer's Guns & Supply!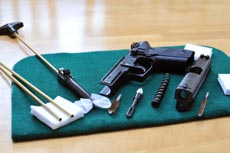 Shop with Kramer's Guns and Supplies for the most popular gun accessories backed by exceptional expertise. Product knowledge is critical in our industry, and we are ready to assist you with firearms accessories, from holsters, slings and scopes to hearing/eye protection and cleaning supplies. Let us help you shoot straighter, clean better and store smarter!
Call us today at (815) 894-2239 for all your firearm accessory needs!
Our Scope and Optic Vendors
Our Accessory Vendors