Welcome to Kramer's Guns & Supply!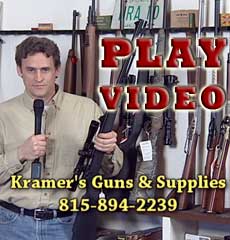 Here at Kramer's Guns & Supplies, we stock many types of quality firearms, including all major brands. We stock both new and used guns and always have a great inventory. What we do not have ,we can usually get very quickly through our extensive distributor base. Many of the guns we stock we can also get directly from the manufacturer. If there is a brand of gun you are interested in, call us and we will try and help you. We also BUY, SELL and TRADE firearms.
Kramers has over 53 years of combined service and is a hometown business with hometown pricing. We are open 7 days a week and you can count on us to help you on a one on one basis. Call us today at (815) 894-2239!
We are actively involved with our local veteran's organizations through service and fundraisers, and are proud to be a member of the VFW, NRA, ISRA and SASS.
Firearm Transfers
Have you won an auction on Gunbroker, Auction Arms or Guns America? Need to transfer an out of state firearm purchase to Illinois? At Kramer's Guns & Supplies, we do accept the transfer of firearms purchased elsewhere for a nominal fee. However, we encourage you to check with us first to see if we can get the gun for you at the same or near the same price. Call us today at (815) 894-2239!
Please understand that all transfers are between you and the seller, we are simply receiving the gun for you. We offer no warranty on transferred guns.