Firearms at Kramer's Guns & Supply!
Make Kramer's Guns and Supplies your first stop for all your rifle, hand gun and shotgun purchases. We have a great inventory of new and used firearms for you to choose from.
We carry a wide range of rifles ranging from hunting rifles, youth rifles, black powder rifles, lever action rifles, and modern sporting rifles. Available in a number of popular calibers such as .223 Remington, .308 Winchester, .30-06 Springfield and others, our selection of rifles are designed for all types of shooters and firearm enthusiasts.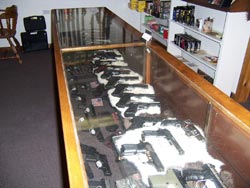 Our selection of pistols come from some of the top names in the business and range in caliber from 9mm pistols and .45 ACP handguns to .380 ACP pistols, 22 LR handguns and more.
From hunting and target shooting to home protection, our selection of shotguns can do it all. We are proud to supply you with a large selection of quality shotguns from some of today's finest manufacturers.
Our firearms are sold in accordance with all federal, state, and local firearm laws.
And as always if we don't stock what you need, we can usually have it here in as little as 3 days.
Call us today at (815) 894-2239 for all your firearm needs!
Our Firearm Vendors
Please follow the links below to find the perfect firearm for your needs. We can have most firearms here in as little as 3 days!
Our Black Powder Firearm Vendors